Our Virtual Advent Calendar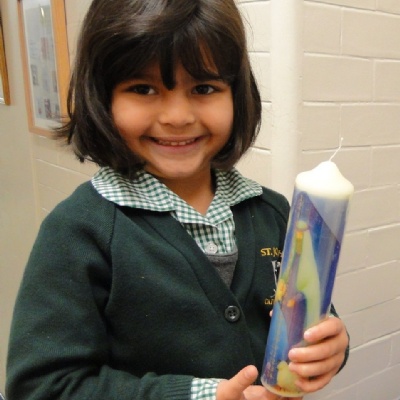 It is now the Season of Advent when we prepare for Christmas. Each school day we will be publishing an item for our virtual Advent calendar. Watch this space!
Day 15 - Friday 18th December 2020
A very merry Christmas from all the staff!
Day 14 - Thursday 17th December 2020
The Third Week of Advent in School
Day 13 - Wednesday 16th December 2020
Today we drop into a class worship led by Year 5.
(The trumpet playing was pre-recorded in line with Covid guidance for wind instruments)
Day 12 - Tuesday 15th December 2020
We dropped into Year R to share their story time.
Day 11 - Monday 14th December 2020
Merry Christmas from around the world.
Day 10 - Friday 11th December 2020
Today we drop in on our Year 1 Class and their Advent preparations for Christmas.
Day 9 - Thursday 10th December 2020
Today we learn about the tradition of the Christmas Tree.
Day 8 - Wednesday 9th December 2020
We have had to limit the amount of singing in school at the moment but, working in small groups in the open air,
Year 2 have been learning the The Rocking Carol.
Day 7 - Tuesday 8th December 2020
The feast of the Immaculate Conception.
Year 4 have been reflecting on Mary's vocation and example.
Day 6 - Monday 7th December 2020
Year 5 will tell us about St. Nicholas, whose feast day was celebrated yesterday.
Day 5 - Friday 4th December
Today, Year 3 will tell us about the tradition of the Christmas Crib.
Day 4 - Thursday 3rd December 2020
The Feast of St. Francis Xavier
Thanks to Cass, Charlotte, Isla, Anastasia, Taylar and Dexter for their narration
as we reflect on the life and message of St. Francis Xavier.
Day 3 - Wednesday 2nd December 2020
A "New Year" message from Father Tony
Day 2 - Tuesday 1st December 2020
Today, we drop in on a Year 6 pupil-led class worship.
Day 1 - Monday 30th November 2020
Our Advent Preparations Begin