Paradigm Teaching School Alliance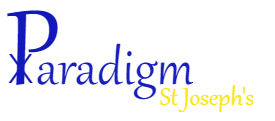 We have a long and successful history of collaboration with the other Catholic schools in our Epsom and Redhill Deanery. In September 2018, this collaboration was further enhanced with the establishment of the Paradigm Teaching School Alliance. We are proud to be an active, strategic partner in Paradigm which is based at St. Joseph's Catholic Primary School in Epsom.
We work together for the benefit of the children in our schools, providing school-to-school support and sharing expertise and resources. Key areas of collaboration are professional learning and development for our staff and initial teacher training for prospective staff through the School Direct route.
School Direct Training Places.
We place student teachers in our local Catholic schools and assist them towards becoming excellent practitioners. Trainees follow the full PGCE programme at St Mary's University, Twickenham or at Roehampton University and also finish the course with Qualified Teacher Status. Trainees also work towards Masters credits throughout the year. Both providers offer a Key Stage 1 / Key Stage 2 option (5-11) and Roehampton also offers an Early Years / Key Stage One option (3 - 7).
For 2019 - 2020, we are also delighted to offer a PGCE with a Maths specialism through Roehampton University.
If you are considering teacher training, please get in touch with Paradigm by email to paradigm@stjosephs-epsom.surrey.sch.uk
More information can be found here:
DfE Find Postgraduate Teacher Training
www.stjosephs-epsom.surrey.sch.uk